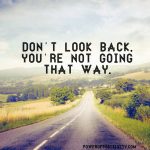 I write a lot on these pages about love and loss and letting go and holding on to hope.  I've learned something about myself as I've gotten older. One, I am terrible at letting go. And two, I am incapable of giving up.
Those two things sound the same but they aren't. Here's the difference.
Letting go is necessary to being able to embrace what's next. We are, all of us, guilty of holding on to something that needed to be released long ago and we do this for as many reasons as there are people.
Not giving up means that once you release your "stuckness" by letting go, you continue to believe in your worth and your value. You fight for your own happiness. Live the life you imagined (or at least as much as possible minus the million dollars and the mansion).
I held on to a marriage way past its prime. My reasons were good, I thought. I had a family. I wanted to keep it together. I had to learn that the dynamics that develop between two people in a marriage can be more harmful to a family than to break up and live separately, providing two happy households. Exposing my kids to the dynamic between my ex and me was not good for them; it wasn't healthy for any of us.
When I let go, I did it for all of us. Took one for the team. That was what I did for my family. Yes, it was hard. Yes my ex re-wrote history and hated me. No, my kids didn't understand cause they were little*.  Ultimately, though, it was the best thing for all of us. It was at this time that many people called me "brave" and "courageous".
Now, those aren't words you can generally use to describe yourself. Right? You can't call yourself brave. You can't be all, "Look at me, I'm so brave!" But you can decide to be brave. And when I see someone taking action in their life like this, I recognize that it took guts to leave, or change, or grow, or say no, or make the "unpopular" choice within their tribe. I recognize the courage.
So then, can you see the difference between letting go and not giving up? I let go of that scenario, an ideal I had in my mind and heart about what family meant, because I wasn't willing to give up on happiness – my own, my children's, and even my ex's.
I believed, and I still do, that there was a happier life for me, for all of us. I certainly don't mean to make it sound like once I decided to let go it was clean cut and easy. Not by a long shot. There were times I looked back and thought, did I leave something behind? Did I mean to let that go? (Generally, I'd spend ten minutes with him and go, oh yep, yeah, I meant to drop that like it was hot.)
*Note that while its true that my kids didn't understand at the time, there were benefits even to them that came from splitting, and that now, at 15 and 16, they do see that and understand.
I am living proof that happiness is meant to be yours if you don't give up. Finding your path isn't always easy and it isn't always clear. There are wrong turns but you course correct and keep moving forward. It's natural to question your choices, but, when you run a race, you don't head back the other way – you keep running forward. You left things behind for a reason – the things you left behind weren't right. 
One of my favorite quotes is from a letter of love advice John Steinbeck wrote to his son, Thom. He said, "And don't worry about losing. If it's right, it happens. The main thing is not to hurry. Nothing good gets away."
Let go and keep moving forward. Trust yourself. Trust that the path ahead holds more for you than what you left behind. And trust that your happiness isn't selfish. It matters – and affects the ones you love too.
*-outlook by Rupi Kaur Milk and Honey https://rupikaur.com