All That is Next.
The title of my blog was born because while one chapter of my life was ending, I was hopeful about what was next.
At the time, I figured what I really wanted to do with this blog, besides practice writing, was mostly just muse "out loud" to whomever wanted to listen. Mostly I wanted to think aloud about the things important to me – things my friends and I sat around and talked about; our kids, thoughts on relationships, love, friendship. It occurred to me that there was a lot to say about the end of a marriage and the beginning of what comes next. And so, "All That is Next" was born.
I recently found a bunch of files belonging to my ex husband in our old filing cabinet. It was mostly things like old taxes, certificates for classes he'd completed, cards from the kids.  I boxed it up and gave it all back to him. Except for one file: Letters from Dayna. I kept that for a couple reasons. For one thing, I figured if he'd wanted it back he'd had seven good years to ask for it. Yes, technically they belong to him, but frankly, I think these letters have more value to me. Secondly, I really wanted to read what I'd written – a peek into the not so distant past.
Besides that I am an anthropologist at heart, these artifacts are a treasure to me. I have a feeling he'd probably burn them. I wanted to learn from them.
When you end a marriage or partnership, as many of you probably know, there are times that you ask yourself: Did I do everything I could to save it? Could I have done more? This is no more true than when you share children.
Reading through the old letters, I know the answer is yes. It's all there – the end of the marriage. How hard we fought. I think he's forgotten, honestly. But we truly fought hard, each of us in our own way, to save it. I know now that some things just aren't meant to be saved – by hanging on so tightly, we only tore each other up all the more. It would have been so much kinder, so much more graceful to just let one another go. But we couldn't – because of our disillusionment, maybe our ideals (my ideals? my stubborn refusal to let go?)
My fierce desire to keep my family together, which I thought at the time was in everyone's best interest (It's NOT, People. It's really NOT) led me to hang on with a death grip. Finally, that realization that we were actually hurting everyone more by hanging on was what allowed me to let go – and I did it for all of us. 
I think your 40's brings you some wisdom if you've paid attention. You give fewer fucks. You expend less energy where it is wasted. You let go of people who exhaust you and don't feel so guilty about it. You (hopefully) learn to forgive yourself your failures and let go of the shame. I fought hard to keep my marriage because I didn't want to fail – I didn't want to fail my kids, my husband, my parents, his parents, my first grade teacher…(I mean, apple polisher for life…) But seriously, the shame of failing ran deep in my bones for a long time. And you see your kids hurt and feel like you caused it. That's one giant ball of fuuuuuuucked up shit to get over. But staying in a bad relationship doesn't do them any favors – in fact, that's worse.
Reading those letters back now, I'm kind of – I think the word I'm looking for is satisfied. Even if we did beat each other up a fair amount in the end, I'm proud of the success of that marriage. We made two pretty amazing people. That's not failure. Staying in something dysfunctional because you should, continuing to take any kind of abuse or poor treatment to save even a shred of something, maybe because you think it's all on you – that's where we go wrong.
Mostly – mostly – I am proud of us for letting go. I might be a little prouder of me here, on account of he seems to hate me…So, I think it's safe to assume he doesn't see things quite the same way. But you know what? That's sort of my point. I know I let go for both of us, and I know it was the right thing. Even if he never sees it that way, I'm willing for that to be the case.
Why? Because I understand something he may not ever be able to:  we could only have had the life we had with one another. And now, we each have lives we can only have apart.
Our marriage served its purpose, and then it was time to move on. We created two beautiful humans and I will love him til the end of my days for giving me that. My children are my heart and soul. I am grateful for the time shared with him, even as I am grateful – truly – that it is done. He is remarried and seemingly happy, which makes me happy for him.
The life I have had since we ended I could only have had because we ended. And it's been full of love, and happiness, and yeah, even some heartache. And I am thankful for it all because it lead me here.
So as I look ahead, I am poised to accept all that is next – there are things/people/experiences I can only know because of where I am now. It's exciting at the same time as it's terrifying, and undoubtedly it will be filled with love, and happiness, and of course, some heartache.
Because that is life – right? We don't get to control how much of any of it we get. But as the steward of this one and only life I get,  I intend to make it happy, which means embracing all the joy, and yes, all the pain.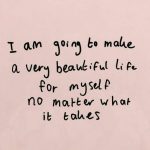 Don't take that to mean I'm all zen about endings, or completely at peace when I don't get what my heart wants. I have to work to let go, remind myself to hope. But I want to live this way – to accept the thorns along with the roses…
To let a new life happen…and to truly look forward to all that is next.
(Poem, From Salt by Nayyirah Waheed. Link below)